TUTOR ORIEL
UxUiProductBranding

Solo Project 8 Weeks 09/2022
Tutor Oriel is an online tutoring service for high school students. They were suffering from low engagement and account creation rates due to a confusing onboarding process and poor design. I devised a new layout strategy and rebrand.
Sign-up Flow :
I cleaned up the sign-up flow so that it was easy to follow. I designed it so that the users could explore the product before being asked to commit financially.
Cle
Student Portal:
From my research, it became clear that a tool for students to organise themselves would be helpful so I designed a student portal.

Investigation:
What is wrong with the site?
Heuristic Analysis
I used Nielson Norman Group's 10 Usability Heuristics for User Interface Design to assess the state of the current site and break down the usability problems.

Identifying Key Issues
I assigned scores to each of the 10 heuristics. Visibility of system status, user control and freedom and aesthetic and minimalist design scored worst.

Adjacent Industry Audit
I looked at competitors UX processes in my key issue areas to understand how other companies were tackling these issues. This research informed my system design.

Ideation:
How can it be fixed?
Low Fidelity
I began by loosely sketching potential UI layouts and system maps that would improve on the current model

Mid Fidelity
I moved on to sketching on-screen and testing my designs and flows with users.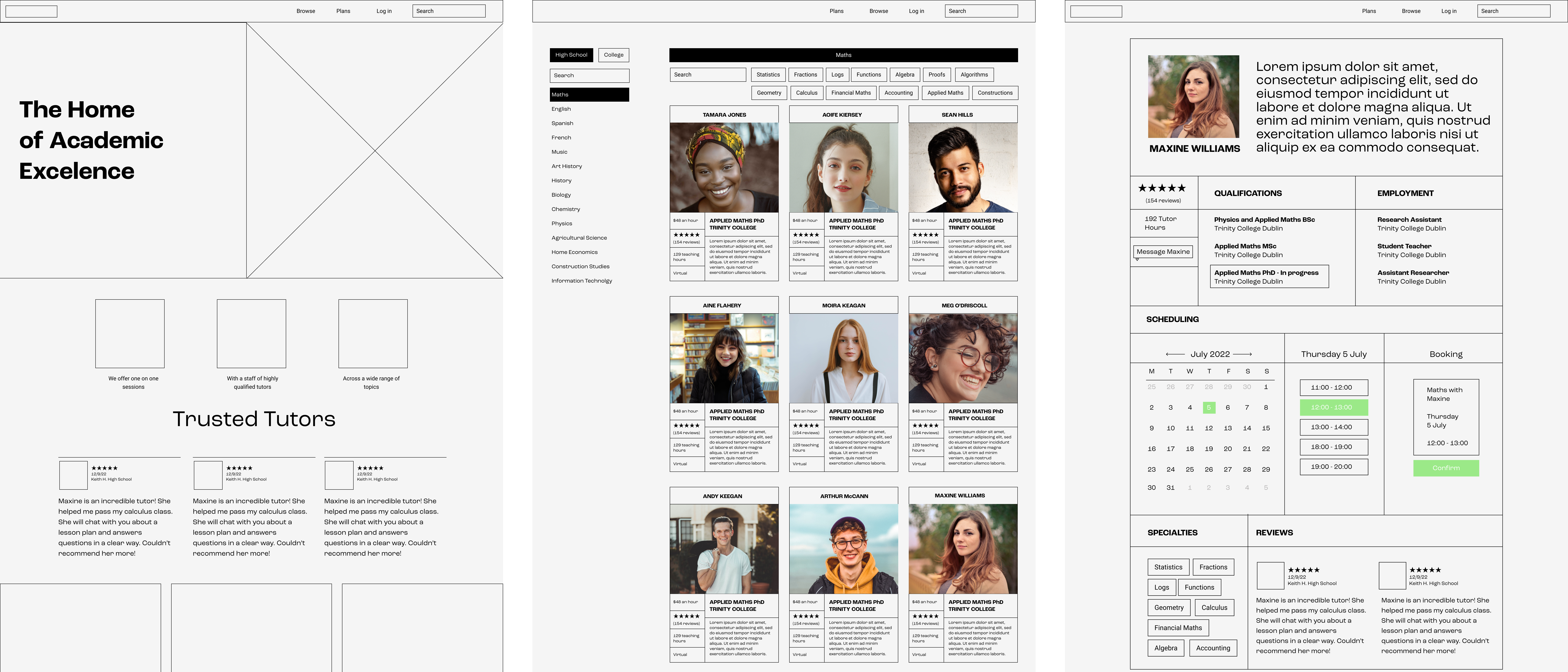 User Personas and Journey
I user personas and journey maps to deepen my understanding of the problem and what would be required in the solution.
Testing:
Which solution will work?
Users
I tested on users who are in high school, college or work in the education field. I chose a range of ages, nationalities and backgrounds.


Feedback Synthesis
I recorded and transcribed my interviews. I then analysed the content and synthesised it. I annotated my prototype with the relevant sketches.

Prototype:
What is the solution?
The Design
I used a palette of bright colours and friendly copy as the majority of my target audience is highschool students. I tried to give the brand a scholastic feel by useing horizontal lines throughout the design to emulate copy books.
Retrospective:
What did I learn?
How could I improve?
Next Steps:
If I was to make this a weekly event I would have to decide if it would be a local event or a national travelling service.

Reflections:
I began by interviewing my target audience at the very start. I think this helped me to better understand what kind of night they would be interested in and tailor the experience to their "in-jokes". For example, in the 70's and 80's in Ireland, you could get a chicken dinner in night clubs. I made a lot of jokes around this in my promotional material.